Kabara Institute for Entrepreneurial Studies
Events & Competitions
Recent Virtual Events 
Click on any of the videos below to watch recent forums, conversations and presentations 
ATTENTION: Please note that all events are currently being held in a virtual format.
See event details for sign up. Note: Event log in details will be sent to all registered attendees. 
Kabara Guest Speakers
Kabara is honored to host an array of entrepreneurial guest speakers throughout the year on SMUMN's Winona Campus. Past speaker events can be viewed on this page. Tune into our Facebook page for times and locations leading up to the event.
WE Forum Events
Women Entrepreneurs Forum events are great opportunities for women entrepreneurs to network, connect and enhance their entrepreneurial spirits. Check out the 2020 calendar below or view the WE Forum 2020 Calendar.
All WE Forum events care currently being held virtually.
When things change, we will once again meet in person at:
Saint Mary's University Rochester Campus – Cascade Meadow Wetlands
2900 19th Street Northwest
Rochester, MN 55901
2020 Calendar
January 16
Turning Interests into Businesses — "How to Make the Leap"
February 13
Doing Business in Med City — "Catering to the Patient Experience"
March 19 –
Investing in Your Business — "When to Spend Money in the Early Stages"
April 16
Should You Consider Franchising? — "Value in Name Recognition"
May 21
What Does it Take? — "Grit, Gumption, and Resilience"
June
Summer Break
July 16
Selling Online — "The Good and Bad of Offering Online Sales"
August 20
Staying Current — "Using Continuous Learning to Stay Relevant"
September 17
Building a Side Hustle — While Still Working Full Time
October 15
Protecting Your Business — "Copy Write, Trademarks, IP"
November 19
Marketing with Social Med — "How to Attract Customers"
December
Winter Break
1 Million Cups
1 Million Cups is a monthly event that brings together the local community of entrepreneurs for a cup of coffee and a conversation. It is a great opportunity for those looking for first-hand entrepreneurial advice from start-up business owners.
1 Million Cups Winona
1MC Winona takes place on the second Wednesday of every month at the offices of the Chamber of Commerce.
1 Million Cups Rochester
1MC Rochester takes place on the first Wednesday of every month at Saint Mary's Cascade Meadow facility located at 2900 19th Street NW
Rochester, MN 55901.
To stay updated on all things Rochester 1MC, be sure to follow them on Facebook @1MCRochester.
Cardinal Pitch Competition 2021
On November 11th, the Kabara Institute will host the annual Cardinal Pitch Competition. The event will run from 4-6pm and will happen in the Kabara Suite inside Aquinas Hall on the Winona campus.
Student teams will have 90 seconds to present their business, product, or philanthropic venture to a panel of judges. Prizes are awarded to the top three teams, and this year we are offering an additional prize for pitches focused on the military veterans community.
This year's Cardinal Pitch Competition will take place on November 11th, 2020 from 4-6pm. The event will be virtual, so sign up for a time to pitch your idea to our panel of judges and win up to $500 for 1st place!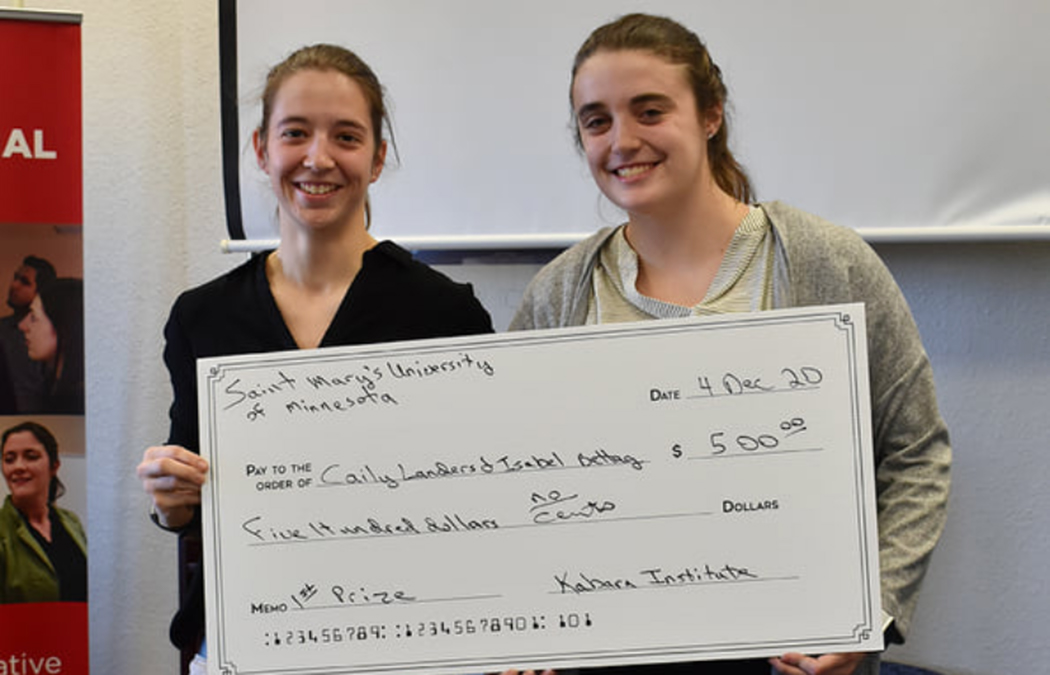 Recent Event
SMIF Student Bridge Competition
After previously winning first place in SMUMN's own elevator pitch competition last year, Caily Landers and Isabel Bettag spent the spring and summer pitching at events and developing a prototype to present their idea at the Southern Minnesota Initiative Foundation's Entrepreneurial Bridge Competition.
Both students are double majors in the business department, as well as athletes competing on the SMUMN basketball team. Landers is a management and sports management major, and Bettag is majoring in finance and sports management.
The two won the People's Choice Award at the Assistive Tech Challenge in June, and recently entered the Bridge Competition with their idea, "Calm Connect", an app based solution to address isolation and loneliness in children and elderly patients.
Overall, Landers and Bettag have been impressing judges and potential customers across SE Minnesota as they discuss piloting a prototype of their product in local health institutions this fall.
To hear more about their journey, check out the story on the Student Spotlight page.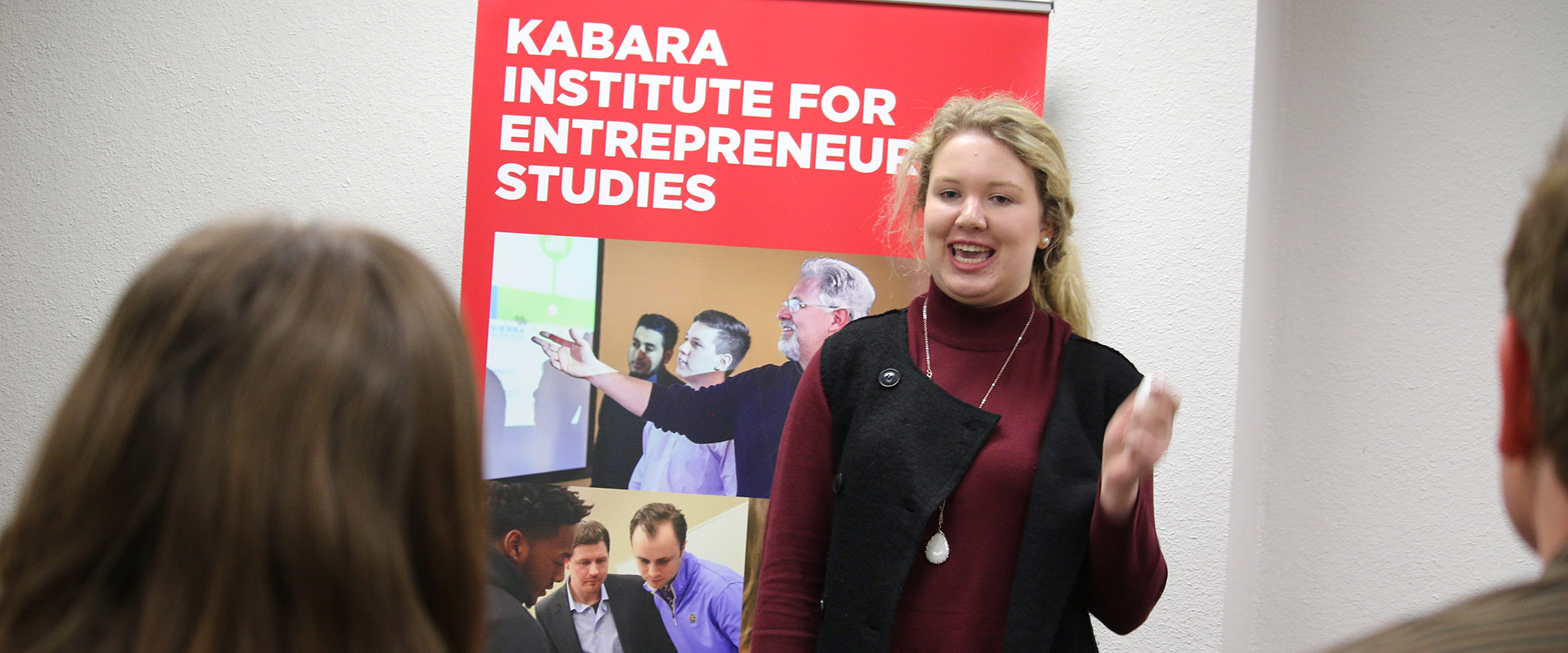 Elevator Pitch Competition
Kabara hosts a annual elevator pitch competition where students have the opportunity to pitch their business idea in 90 seconds or less for cash prizes.
This year's 2021 competition will be held on 11 November from 4-6pm. Email us at KabaraInstitute@smumn.edu to enter.
Learn more about the competition by reading the rules and requirements.
Fall 2019 Winners
1st PLACE
Caily Landers & Isabel Bettag with "Atmos-here"
2nd PLACE
Cole McElwain with "Generation Z"
3rd PLACE
Trevor Paradise with "The Warm Wagon"
MOST SOCIAL IMPACT:
"SMU Alert Banner System" — Steve Reamer & Jacob Coleman
"Haystak" — Sarah Hardy
MOST INNOVATIVE:
BioTape — Christain Beamer
Fall 2018 Winners
1st PLACE
Sarah Hardy & Anna Dale with "Ensemble"
2nd PLACE
Carolyn Klaesges & Luis Avila with "Drive Coin"
3rd PLACE
Jakira Robinson with "#GIRLCHAT"
MOST SOCIAL IMPACT:
"Athletes United" — Justine Schultz & Kris Shepard
"Providing Opportunities for Prosperity" — Katherine Lofquist
"Eat Green and Go" — Lily Figel
MOST INNOVATIVE:
"Weight to Wake" — Izamar Leon
"Solar Pot" — Taliya Harris
"Soaker Socks" — Stephany Beck
Spring 2018 Winners
1st PLACE
James Perreault with "Sani-Cart"
2nd PLACE
Jake Mencacci, Bailey McKnight, Steven Reamer & Alex Kleve with "RIGHTFITSports"
3rd PLACE
Rowan Flynn & Carolyn Klaesges with "Utilizing Predictive Modeling"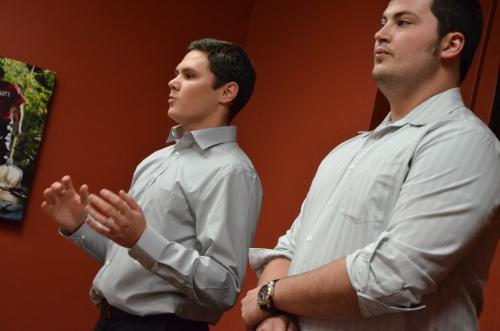 Business Plan Competition
To further foster the entrepreneurial spirit within its students, the Saint Mary's University Business Department and the Kabara Institute will periodically sponsor the business plan competition to engage and encourage business-minded students at SMUMN.
Learn more about the competition by reading the rules and requirements.