Kabara Institute for Entrepreneurial Studies
Elevator Pitch Contest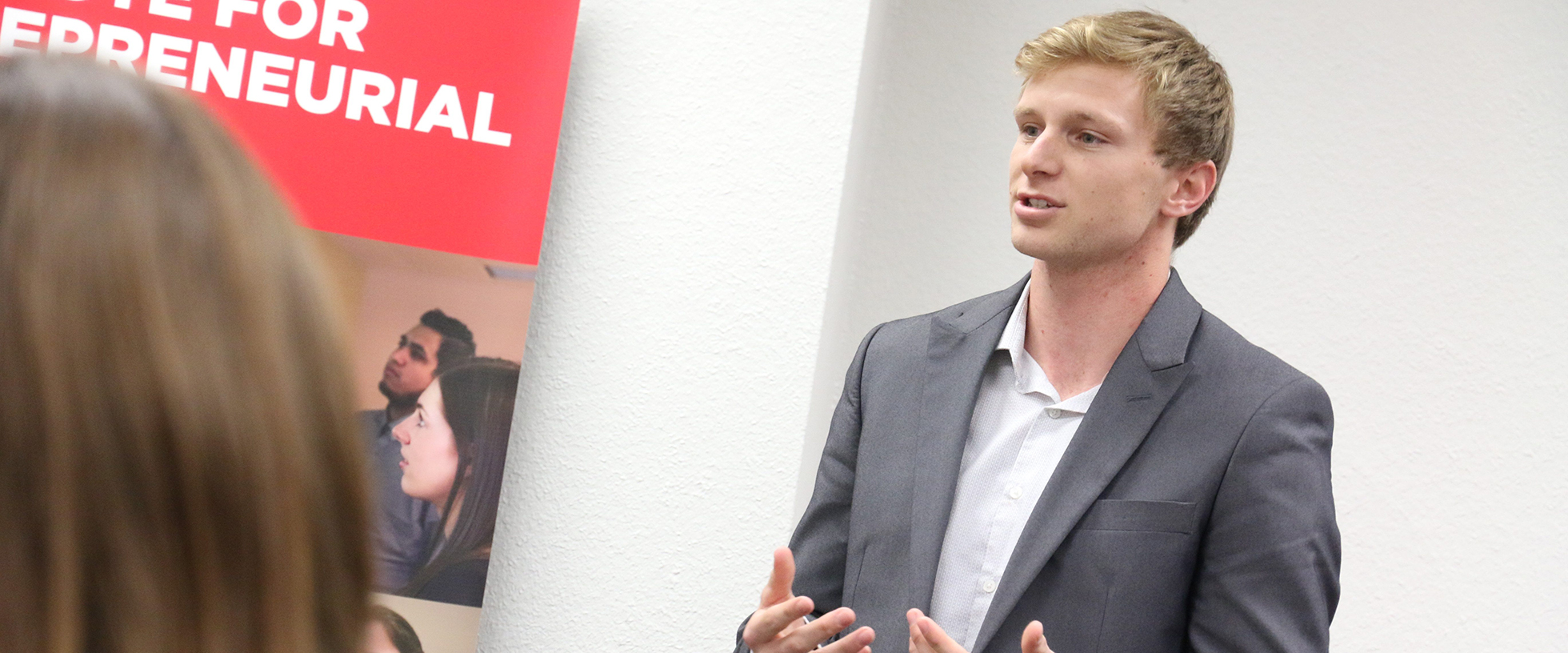 For current Saint Mary's students
IMAGINE THIS…
You're an up-and-coming entrepreneur. A well-known business person approaches you and asks for an "elevator pitch" on your new product or service. What do you do?! Well, because you entered the Kabara Institute's Business Idea Elevator Pitch Competition, you not only know what that means, but you're a seasoned pro at delivering your business ideas in 60-90 seconds, the time it takes to ride an elevator. You do just that, and the potential investor wants to sign on!

WHO SHOULD ENTER?
Any undergraduate Saint Mary's student of any year of any major who has an idea for a new business;
Students interested in enhancing their presentation skills;
Students who want to explore the idea of starting a business.
OKAY, I WANT TO ENTER… NOW WHAT?
Information for Elevator Pitch Competition
To register please email kabarainstitute@smumn.edu.
The elevator speech should:
Identify yourself
State the company, non-profit organization, program or event name
Identify your proposed role or position
State your mission (What outcome do you want to achieve?)
Identify your market niche or target market, client or community you seek to serve (To whom will you be selling or promoting this product/service/event/non-profit?)
Identify your competitors or the need (Who else does something similar or what is not being done?)
Identify your competitive advantage or why customers or clients may choose your alternative over others (Why will customers/clients choose you over competitors?)
State the purpose of your request (How much money, what kind of support (financial or verbal) or what expertise do you need?)
State your contact information (How would someone reach you with questions?)
These are the factors that the judges will consider when evaluating your entry:
The Concept (5 possible points)
Is the concept creative, financially feasible, and able to fulfill an identified need?
Content of the speech (10 possible points)
Does the contestant clearly:
Identify themselves and the organization, company or event,
Communicate the "big idea," the mission and market niche,
Ask for appropriate assistance and present follow-up details?
Delivery (10 possible points)
Does the contestant demonstrate confidence and energy,
Use appropriate body language and eye contact, and have good articulation and rate of delivery?
Notes MAY NOT be used during the presentation.
Overall Effectiveness (5 possible points)
Do you want to "buy in" to the idea, based on the presentation?
PENALTY OF 3 POINTS FOR A SPEECH THAT IS LONGER THAN 90 SECONDS.